Adult Book Clubs

Three Book Clubs - Something for every taste. 
Join one or join them all!
Evening Book Club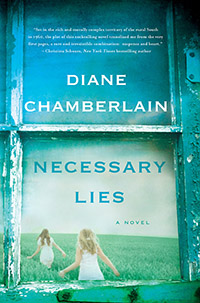 Necessary Lies
By Diane Chamberlain
Tuesday, March
 6:00pm*
*POTLUCK DINNER- Dinner will be served at 6pm. Discussion will begin at 6:30pm
After losing her parents, fifteen-year-old Ivy Hart is left to care for her grandmother, older sister and nephew as tenants on a small tobacco farm.  As she struggles with her grandmother's aging, her sister's mental illness and her own epilepsy, she realizes they might need more than she can give.
When Jane Forrester takes a position as Grace County's newest social worker, she doesn't realize just how much her help is needed.  She quickly becomes emotionally invested in her clients' lives, causing tension with her boss and her new husband.  But as Jane is drawn in by the Hart women, she begins to discover the secrets of the small farm—secrets much darker than she would have guessed.  Soon, she must decide whether to take drastic action to help them, or risk losing the battle against everything she believes is wrong.
Set in rural Grace County, North Carolina in a time of state-mandated sterilizations and racial tension, Necessary Lies tells the story of these two young women, seemingly worlds apart, but both haunted by tragedy.  Jane and Ivy are thrown together and must ask themselves: how can you know what you believe is right, when everyone is telling you it's wrong?
The students have come to learn the art behind Lillian's soulful dishes, but it soon becomes clear that each seeks a recipe for something beyond the kitchen. And soon they are transformed by the aromas, flavors, and textures of what they create.
Visit our blog! 
Afternoon Book Club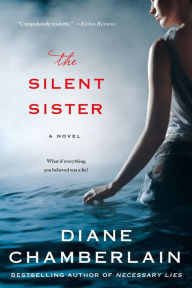 The Silent Sister
by Diane Chamberlain
Tuesday,
1pm
"Chamberlain's powerful story is a page-turner to the very end." -
Library Journal
Riley MacPherson has spent her entire life believing that her older sister Lisa committed suicide as a teenager. It was a belief that helped shape her own childhood and that of her brother. It shaped her view of her family and their dynamics. It influenced her entire life. Now, more than twenty years later, her father has passed away and she's in New Bern, North Carolina, cleaning out his house when she finds evidence that what she has always believed is not the truth. Lisa is alive. Alive and living under a new identity. But why, exactly, was she on the run all those years ago? What secrets are being kept now, and what will happen if those secrets are revealed? As Riley works to uncover the truth, her discoveries will put into question everything she thought she knew about her family. Riley must decide what the past means for her present, and what she will do with her newfound reality. Told with Diane Chamberlain's powerful prose and illumination into the human heart and soul, The Silent Sister is an evocative novel of love, loss, and the bonds among siblings.
"Enthralling and gripping...Chamberlain has a gift for telling stories about families whose good intentions go awry in difficult circumstances. Her characters are always portrayed with an understanding that sometimes life's most tragic mistakes require heroic strength to survive." -Book Reporter
Visit our blog! 
Mystery Book Club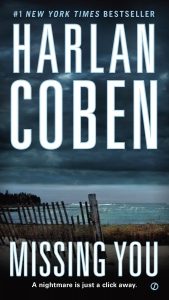 Missing You
by Harlan Coben
Wednesday, March  22
2pm
It's a profile, like all the others on the online dating site. But as NYPD Detective Kat Donovan focuses on the accompanying picture, she feels her whole world explode, as emotions she's ignored for decades come crashing down on her. Staring back at her is her ex-fiancé Jeff, the man who shattered her heart 18 years ago.

Kat feels a spark, wondering if this might be the moment when past tragedies recede and a new world opens up to her. But when she reaches out to the man in the profile, her reawakened hope quickly darkens into suspicion and then terror as an unspeakable conspiracy comes to light, in which monsters prey upon the most vulnerable.